Participate In The Parade!
CLICK HERE FOR THE LATEST PARADE DETAILS
Help us make the parade even better by participating: If you or your organization would like to participate in the parade this year please download, fill out, and return the Parade Participation Form shown here by followng the instructions below. Please note that you should forward your completed form to us by May 30th. We look forward to your participation!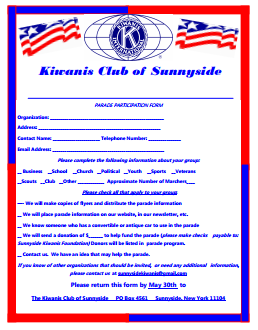 Instructions:
You need to have the Adobe Reader installed in order to view and print the form:

If you already have Adobe Reader installed go to step 2 now, otherwise continue reading below.

If you do not have Adobe Reader installed click Get the Adobe Reader and follow the instructions to install the reader:

Note, depnding on how your browser is set up, clicking "Get the Adobe Reader" will open a new window or tab on your browser and take you to the Adobe web site.

After successfully installing the reader return to step 2 below.


Click here to download the Parade Participation Form (opens in a new window or new tab)


Print out and complete the form then mail it to the address indicated in the form. You will be contacted promptly.